Travel Vacation Specialist!
My name is Melissa Bretzius and I live in Ann Arbor, Michigan (Go Blue)!  I'm so very fortunate to have a husband and three children who share my love for Disney! As an annual passholder and Disney Vacation Club member, I always have a countdown to our next trip! For years, I've spent lots of time planning every detail for my family's Disney vacations and began helping friends and family with their planning needs as well. I decided to make it official ~7 years ago when I became a Travel Planner specializing in Disney destinations. I'm a graduate of the Disney College of Knowledge, so I have "earned my ears"… literally! Since 2011, I've helped plan Disney vacations and Disney cruises for over 400 families! Planning your Disney vacation is just as fun as planning my own… it really is!!! My family has been to disney almost too many times to count—we've had short trips, long trips, surprise trips and multi family & friend trips, (along with a couple Disney cruises and Disneyland)— and we still have yet to do everything! 🙂 We've stayed in most of the Disney resorts (definitely have our favorites!), ate at the vast majority of restaurants and dinner shows and have done lots of the not-so-common experiences, such as tours & dessert parties.
Planning a Disney trip can be overwhelming, time consuming and even a little intimidating. You're spending a lot of money and there's a ton of planning involved. As your travel specialist, I'll use my experience to help you plan your most memorable vacation ever. I promise! I'll recommend fantastic places to stay to fit your budget, great places to eat and types of rides and attractions for all ages at each of the Disney Parks. I'll help with your My Disney Experience account, book your dining for you and assist you with your fast pass selections months before you arrive! I'll also send you a checklist of everything we'll need to do and when we need to do it! I'll also monitor your vacation and if a less expensive price or special is announced for your travel dates and resort, I will apply it to your trip, saving you money!
Will you have a fun trip if you decide to just wing it? Well, it's likely… you're in Disney World. Will you have a fantastic time knowing that your dining is taken care of, you have tips for each of the parks, you know where you're going each day, your fast passes are set for the best rides and attractions, you're maximizing your time in the parks and I'm just a call or text away during your vacation for any questions or suggestions?? You bet!! And, best of all, my services are free for my clients. Mmm-hmmm. FREE! It costs you not a penny more than if you booked your trip directly with Disney. Why would you NOT book your Disney trip with me and Mickey Adventures!?
So yes, I really am just as excited to plan YOUR Disney vacation as I am to plan my own. (Otherwise I wouldn't be doing this!) I want you and your family to have a blast at the happiest place on earth and have THE most memorable vacation ever. Email or call me today and let's get started!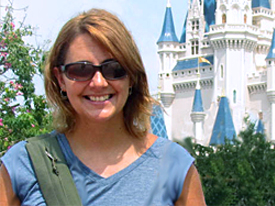 Melissa Bretzius lives in Ann Arbor, MI.  Melissa's expertise is Walt Disney World in Florida, Universal Studios Orlando, Disney Cruise Line and Disneyland. She specializes in family trips, first time trips, and extended family vacations.  You can reach Melissa at: